The updated version of the Nicalis platformer is coming sooner than you think.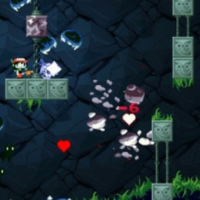 Cave Story+ is coming out on Nintendo Switch soon enough, and you'll be able to get your hands on it this summer.
It will be available as a physical and digital release via the Nintendo eShop for $29.99, as announced by publisher Nicalis, for June 20.
This version will feature additional levels, augmented graphics, additional free content updates, and new bonuses that haven't been revealed just yet.
If you haven't played Cave Story yet, it's going to be a great time for you to pick it up and give it a try going forward, especially if you're looking for games for what is a barren Switch library right now.
[via Gematsu]
-------
Fueled by horror, rainbow-sugar-pixel-rushes, and video games, Brittany is a freelancer who thrives on surrealism and ultraviolence. Follow her on Twitter @MolotovCupcake and check out her portfolio for more.