Special PVs featuring the VAs from Gundam, Love Live! Sunshine!!, Yamato 2202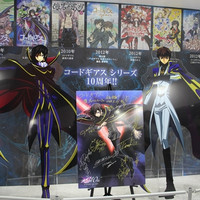 Bandai Namco Group's five main companires: Bandai Visual, Sunrise, Bandai Namco Pictures, Bandai Namco Entertainment, Bandai Namco Rights Marketing, and Lantis set up a huge joint booth to promote their latest titles in the Anime Japan 2017 event held at Tokyo Big Sight on March 25 and 26. Bandai Visual's official YouTube channel has streamed a three-minute video report of the booth, and its 20-minute full version including the PVs exclusively screened at the event. The full version video will be available until 18:00 on April 24 (JST).
Special PV lineup:
"Mobile Suit Gundam: Iron-Blooded Orphans"
with comments by Kengo Kawanishi (Mikazuki Augus), Yoshimasa Hosoya (Orga Itsuka)
"Mobile Suit Gundam: The Origin"
with comments bu Shuichi Ikeda (Char Aznable)
"Mobile Suit Gundam: Thunderbolt"
"Code Geass: Lelouch of the Rebellion"
with comments by Yukana (C.C.)
"Love Live! Sunshine!!"
with comments by the nine members of Aqours
"Space Battleship Yamato 2202: Warriors of Love"
with comments by Sayaka Kanda (Teressa)
Video report full version with the PVs
Short version without the PVs
---
Photos of the Bandai Namco Group booth
(all of the photos were taken by Mikikazu Komatsu with the permissions from the exhibitors and the event organizer)
---