Le 8 juillet au Japon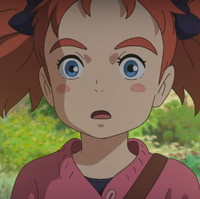 La chaîne YouTube officielle du Studio Ponoc nous donne un nouvel aperçu de son premier long-métrage, Mary to Majo no Hana, avec une deuxième bande-annonce.
L'équipe du film, on le rappelle emmenée par Hiromasa Yonebayashi (Arrietty, le petit monde des chapardeurs, Souvenirs de Marnie) à la réalisation, vient également d'annoncer les principaux membres du casting. Tandis que l'héroïne Mary sera incarnée par Hana Sugisaki, les autres comédiens sont les suivants. De gauche à droite et de haut en bas :
Fumiyo Kohinata (dans le rôle du Docteur Dee)
Yûki Amami (Madame Mumblechook)
Hikari Mitsushima (la sorcière rousse)
Eri Watanabe (Banks)
Shinobu Ôtake (Charlotte)
Jirô Sato (Flanagan)
Attendu dans les salles japonaises le 8 juillet prochain, Mary to Majo no Hana est adapté du livre de Mary Stewart, The Little Broomstick. Le film suivra Mary, une jeune fille qui se liera d'amitié avec un chat noir du nom de Tib qui la guidera vers une étrange forêt. Elle y trouvera un balai qui le mènera jusqu'à une école de sorcières, dans laquelle ont lieu d'horribles expériences sur les animaux...
via ANN