Nobuyuki Takeuchi (Monogatari series)-directed film will open on August 18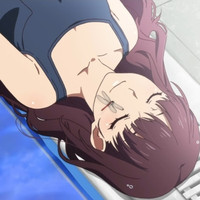 Toho Movie's official YouTube channel today posted a 70-second new trailer for the upcoming anime film adaptation of internationally acclaimed Japanese director Shunji Iwai's 1993 TV drama Uchiage Hanabi, Uekara Miruka Shitakara Miruka?/Fireworks, Should We See It from the Side or the Bottom? introducing its characters with their voices.
2nd trailer
The TV drama was first aired on Fuji TV on August 26, 1993. Its story is set in one day during the summer
vacation and focuses on two elementary school boys, Norimichi and Yusuke. The two are best friends and both
are falling in love with their classmate girl, Nazuna. But because of her parents' divorce, she will have to be
transferred to other school before the second semester begins, and the two boys doesn't know about it yet.
Nazuna, who does not get along with her parents, secretly decides to run away with one of the two who wins
in a swimming race.
---
The anime film edition is directed by Nobuyuki Takeuchi, who has worked as visual and production designer
for Shaft's Monogatari series, on a screenplay by Hiroshi Oune (Moteki, Bakuman. live-action film director).
Akiyuki Shinbo (Puella Magi Madoka Magica) serves as general director. Shaft works on anime production.
18-year-old actress Suzu Hirose voices the main heroine Nazuna Oikawa, alongside Masaki Suda as Norimichi
Shimada and Mamoru Miyano as Yusuke Azumi. This is the second anime voice acting work for Hirose since
Mamoru Hosoda's Bakemono no Ko/The Boy and The Beast in 2015.
The main characters' ages are set higher than the drama, junior high school students. While basically following
tha same plot as the original drama, we can assume that the story of the anime film includes a time loop
element because of the lines in the trailer, "A story of the repeated one day of the summer" and "If we can
live that day over again."
2nd trailer
Poster visual
Source: "Uchiage Hanabi, Uekara Miruka Shitakara Miruka?" anime film official website
©2017 "Uchiage Hanabi, Uekara Miruka Shitakara Miruka?" Production Committee