Go light and airy with this adorable "Sakura"-inspired kimono!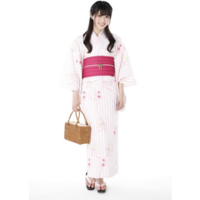 It's that time of year again, where people in Japan break out gorgeous yukata to go view cherry blossoms, and there's a new one that looks absolutely adorable. It's based on Card Captor Sakura!
The summer kimono, or yukata, is traditionally worn to outdoor festivals, and the option to wear an official Card Captor Sakura just makes things even better. SuperGroupies is the set of masterminds behind this new product, and there's even a special obijime, or ornament for the kimono sash, that features Kero-chan and Spinner Sun (Suppi.)
The yukata features sakura blossoms and gilliflowers as well as the sun, moon, and stars. The set runs about $143 and will be delivered in late June.
[via Gematsu]
-------
Fueled by horror, rainbow-sugar-pixel-rushes, and video games, Brittany is a freelancer who thrives on surrealism and ultraviolence. Follow her on Twitter @MolotovCupcake and check out her portfolio for more.