Shorts will be posted weekly following episode broadcasts, web episodes being included on home video release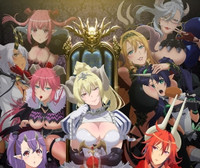 Following the premiere of Friday's first episode, the first companion Zangeroku web short for Seven Mortal Sins in available to view online, however the content is NSFW. The Sin: Nanatsu no Taizai Zangeroku web shorts will also be included with the forthcoming home video release, with the first volume release scheduled for June 28th.
The first Blu-Ray release will include the first web episode posted yesterday and each web episode with be included with every volume until the last volume release, slated for December. The Zangeroku shorts will also be numbered differently, with the first short being labeled Episode 13 and the last short being numbered Episode 19. The short is embedded below, but is NSFW.
---
Humberto Saabedra is a freelance writer and the owner of the blog VisualDeviance. He can also be found on Twitter, Patreon and Instagram.