Advance tickets will go on sale on April 21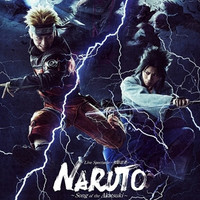 In addition to the previously announced Tokyo and Osaka, "Live Spectacle Naruto: Akatsuki no Shirabe/Song of the Akatsuki", the upcoming second stage play adaptation based on Masashi Kishimoto's internationally popular action manga series, will be also performed in Singapore, the play's official website confirmed today.
The second play will open at AiiA 2.5 Theater Tokyo for a May 19 to June 4 run. Then it will be performed at Marina Bay Sands MasterCard Theatres in Singapore on June 10 and 11, Mielparque Hall Osaka from June 16 to 22, and the Tokyo venue again from July 29 to August 6. Advance sale of the tickets for the Singapore venue will begin at 11:00 am on April 21 (JST). The first play was performed at Resort World Theater in Singapore on June 6 and 7 in 2015 in its first world tour also including Macau and Malaysia.
CM
Poster visual
---
Cast visuals
Naruto Uzumaki: Koudai Matsuoka
Sasuke Uchiha: Ryuji Sato
Sakura Haruno: Yui Ito
Kakashi Hatake: Yuki Kimisawa
Yamato: Rei Fujita
Sai: Ryo Kitamura
Yakushi Kabuto: Ryosuke Okada
Tsunade: Cecile Daigo
Suigetsu Houzuki: Keishi Hagio
Karin: Kanon Nanaki
Jugo: Tomoya Yamaguchi
Kisame Hoshigaki: Takeshi Hayashino
Deidara: Ryo Tsuji
Tobi: Hironori Katayama
Orochimaru: Hiro Yuumi
Itachi Uchiha: Shinji Rachi
Source: "Live Spectacle Naruto" official website
(c) Masashi Kishimot Scott/Shueisha
(c) Live Spectacle "Naruto" Production Committee 2016