8 million US dollars is expected to be needed for reconstruction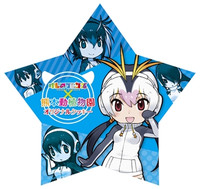 The Kumamoto Earthquake hit wide parts of the Kyushu area in Japan last April, killing 50 people in the Kumamoto prefecture and injuring 2,753 in the prefecture and other prefectures in Kyushu, including Oita, Saga, and Fukuoka. The total amount of the damage caused by the magnitude 7.0 earthquakes is estimated at 4.6 trillion yen (about 42 billion US dollars).
Kumamoto City Zoological and Botanical Gardens in Kumamoto City is one of the facilities damaged seriously by the earthquake. Even one year has passed, most of its equipment are still not functional, and very small areas are open to the visitors for free only on Saturday, Sunday and Holidays. Most of its animals, except elephants, giraffes, and pheasants, have been temporarily evacuated to other zoos. At least 880 million yen (8 million US dollars) is expected to be needed for full reconstruction.
It has been well known among fans that the Kemono Friends franchise has supported the facility's
reconstruction effort. They donated part of the sales of their goods on their official online store and their
booth in the winter Comiket in December 2016.
It was recently confirmed that five-type collaboration original cookies featuring the Kemono Friends characters
are scheduled to be released in the Golden Week of this May. Part of the sales will be also donated to the zoo.
More details including its price will be announced soon, and the collaboration cookies will be also available on
the official online store of Kiyomasa Seika.
You can also donate for Kumamoto City Zoological and Botanical Gardens via Yahoo Japan Net Donation program.
Package arts (one is secret)
Individual packages
via: Netlabo