First part will be streamed on April 28, second will follow one week later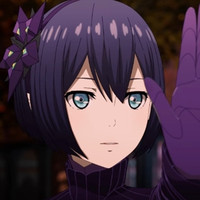 The official YouTube channel of the upcoming two-part original web anime series Soutai Sekai/The Relative Worlds today released a 70-second trailer showing the encounters between the main characters in two parallel worlds, the protagonist Shin Hazama and Zin (both are voiced by Yuki Kaji), the main heroine Kotori Izumi (Maaya Uchida) and a humanoid weapon Miko (Aoi Yuuki).
The OP song "VIP KID" featured in the clip is performed by three-member unit REOL. The song was originally included in their 1st album "Σ" released in October 2016. "ChiruChiru" from the album also used as the ED theme for the anime.
The first part of the "smart CG animation" project created and planned by Craftar will premiere on Hulu Japan on April 28, then the second part will follow on May 5. Director Yuhei Sakuragi is known as the CD director of Shunji Iwai's 2015 anime film Hana to Alice Satsujin Jiken (The Case of Hana & Alice) and
has been also working with Hayao Miyazaki on his first CG short Kemushi no Boro (Boro the Caterpillar)
which will be exclusively screened at Ghibli Museum in Mitaka, Tokyo, in near future.
Trailer
Story description:
The story is set in Japan in 2020. The protagonist Shin Hazama, a high school student in his third year
who lost his mother in his childhood and his father recently, encounters a version of himself who has spent
a different life in another Japan. When everyday life that he has thought would never be changed starts
cracking and the whole world is transformed, what do the boys and girls think, and what do they choose?
The battle with another world and another self now begins.
OP movie
REOL artist photo
Teaser introducing Shin Hazama and Kotori Izumi
Source: HJ Holdings press release
© TOY'S FACTORY INC.
© Soutai Sekai Production Committee