The shipping of the 173 cm-tall item will start in March 2018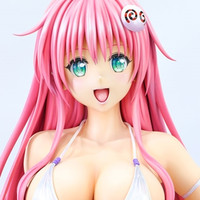 In commemoration of the conclusion of Saki Hasemi and Kentaro Yabuki's To Love-Ru Darkness manga this spring, 10 units of life-size figures of Lala Satalin Deviluke, one of the main heroines in the To Love-Ru franchise, are confirmed to be produced by Miyagi-based company Design Co-co at the price of 3,024,000 yen (including tax, shipping and setting costs/about 27,687 US dollars).
This is the second life-size figure for the franchise and the manufacture following the one based on Momo Belia Deviluke to be released this fall. Design Co-co is known for its 1/1 scale anime character figures, such as Madoka Kaname from Puella Magi Madoka Magica, Meiko "Menma" Honma from Anohana: The Flower We Saw That Day, and Saber from Fate/ZERO.
Pre-orders for the 173 cm-tall item will be accepted on Shueisha's official online store Jump Characters Store from today, April 21 to May 31. After 10 purchasers are chosen by lot, the shipping will start in March
2018 and scheduled to be ended by August of the year. If you are interesting in purchasing it, you can
check a sample of the Lala figure at Shueisha-Gallery in Jinbo-cho, Tokyo from today to May 31.
"Human Scale Figure: Lala Satalin Deviluke"
Release Date: March-August 2018
Price: 3,024,000 yen
Size: H1735×W650×D515 mm
Weight: 45kg
Materials: FRP, steel material, steel (base)
Paint: acrylic urethane resin paint
Production: Design Co-co
発表以来、話題騒然となっていた『To LOVEる -とらぶる- ダークネス』ララ・サタン・デビルークの1/1スケールフィギュア搬入の様子を独占最速取材!銀河級のナイスバディは、4/21(金)から集英社ギャラリーで見られるぞ!#ララ #等身大フィギュア #ToLOVEるダークネス pic.twitter.com/tQ0E6NT9HV

— 集英社コミックシンク (@ComicSync) April 20, 2017
---
"Human Scale Figure: Momo Belia Deviluke"
Release Date: Fall 2017
Price: 2,500,000 yen
Size: H1600×W900×D700mm
Weight: 30kg
Production: Design Co-co
Photos from Kyoto International Anime/Manga Fair 2015 (September 2015)
Source: Shueisha
© Kentaro Yabuki, Saki Hayami/Shueisha, To Love-Ru Darkness Production Committee