4,800-yen item will go on sale at the Donguri Kyowakoku stores on May 21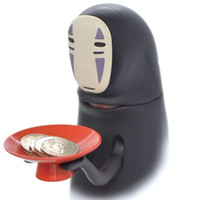 The Donguri Kyowakoku stores across Japan, which are specialized in items inspired by the Studio Ghibli films, will start offering a "Sen to Chihiro no Kamikakushi: Kaonashi Mushamusha Chokinbako (Spirited Away: No-Face Munching Saving Bank) from May 21. The lonely spirit character Kaonashi/No-Face appeared in Hayao Miyazaki's Academy Award-winning film in 2001.
The Kaonashi saving box inspired by the character eats coins placed on the dish when its weight exceeds about 30 grams, then makes a sound of burp. The price is 4,800 yen (about 44 US dollars) and the size is W80×H210×D160mm. The official YouTube of Donguri Kyowakoku's Soranoue store has posted a 80-second demonstration video for it.
Source: Benelic press release