Seven-member unit's 6th single "Koi?de Ai? de Boukun-desu!" hits stores May 24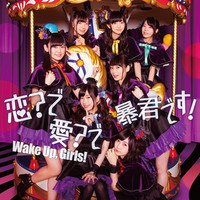 The official portal site for seven-member voice actress idol unit Wake Up, Girls has posted two CD jacket images and a 90-second short version music video for their upcoming 6th single "Koi? de Ai? de Boukun-desu!" to be released on May 24.
The unit was originally formed by the seven winners of the 2nd Anison Vocal Audition for the anime project of the same name in July 2013. In addition to for the Wake Up, Girls! films and TV anime series, they provided their 5th single song "Bokura no Frontier" as the ED song for the Shakunetsu no Takkyu Musume/Scorching Ping Pong Girls TV anime in November 2016, and this 6th single song is now used as the OP theme for the TV anime adaptation of Megane Mihoshi's comedy manga series Ren'ai Boukun/Love Tyrant.
"Koi?de Ai? de Boukun-desu!" is written by Aki Hata, best known for her works for the Love Live! franchise,
and composed/arranged by Hidekazu Tanaka (MONACA), who has worked on The [email protected], The [email protected]
Cinderela Girls, Aikatsu!, Wake Up, Girls!, and many others popular anime series. The CD single will be released
in two editions, 1,620-yen regular edition and 2,268-yen limited edition with a music video DVD.
TV anime Love Tyrant is now available to Crunchyroll members worldwide except Asia.
"Koi?de Ai? de Boukun-desu!" short MV
Limited edition CD jacket
Regular edition
TV anime "Love Tyrant" PV featuring the OP song
TV anime key visual
Source: Wake Up, Girls! official portal site