The 1989 OVA series will be HD remastered and scanned in 4K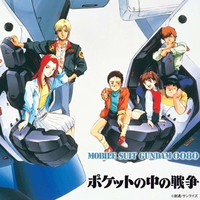 Gundam.Info has confirmed that Bandai Visual will release a Blu-ray box set of Sunrise's first Gundam OVA series in 1989, Mobile Suit Gundam 0080: War in the Pocket, on August 29, 2017, at the price of 16,200 yen (about 148 US dollars).
The six-episode series, which was also the first Gundam anime series not directed by Yoshiyuki Tomino, was first released in VHS and Laser Disc monthly from March to August in 1989. Then its DVD edition was released in two volumes, three episodes each, in 1999.
The upcoming two-disc Blu-ray edition is HD remastered and scanned in 4K from the original films. Its package illustration is newly drawn by the eyecatch designer Tsuguyiki Kubo and its inner jacket is drawn by the character designer Haruhiko Mikimoto. The discs also contain newly recorded audio commentary, non-credit OP and ED movies, PVs, CMs, and music videos. In addition, a 100-page booklet
and a novel book "The Dreams Chris Sees," which was originally published as a bonus item for the April
1989 issue of Tokuma Shoten's Animage magazine, will be included in the set.
DVD jackets released in 1999
Source: Gundam.Info
(C) Sotsu/Sunrise