Yuichi Fukuda (Hentai Kamen)-directed film will open in Japan on July 14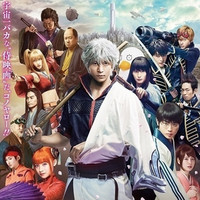 For the upcoming theatrical release in Japan on July 14, the official website for the highly anticipated live-action film adaptation of Hideaki Sorachi's action comedy manga Gintama is today updated with a new poster visual introducing its all main cast in their character costumes. And a new 30-second trailer with more footage including Shun Oguri's sword fighting as Gintoki Sakata is now also streamed. The 34-year-old actor reportedly spent two months for training for the sword fight scenes.
New trailer
\ ポスターも完成/
全キャラクター大集合のポスターも完成しました 4/29(土)より全国の劇場で掲出されます(一部劇場を除く)
公式サイトのTOPページもリニューアルしました https://t.co/ami2YWNKXH#映画銀魂 pic.twitter.com/Fp64sjLKFs

— 映画『銀魂』公式 (@gintama_film) April 23, 2017
1st and 2nd poster visuals
It was also confirmed that the theme song for the film, "DECIDED" is performed by six-member Japanese
rock band UVERworld. The song is newly written/composed by the band's vocalist TAKUYA∞ for the film.
主題歌はUVERworldに決定‼
独自のサウンドと歌詞が若者を中心に絶大な支持を誇る #UVERworld が、新曲「DECIDED」を本作の為に書下ろします
作詞・作曲を手掛けるボーカルのTAKUYA∞(タクヤ)さんからコメントいただいてます(続く) #映画銀魂 pic.twitter.com/3ICQTYbfvs

— 映画『銀魂』公式 (@gintama_film) April 18, 2017
---
30-second teaser
Masaki Suda as Shinpachi Shimura/Kanna Hashimoto as Kagura
Masaki Okada as Kotaro Katsura, with Elizabeth/Masami Nagasawa as Tae Shimura
Murotsuyoshi as Gengai Hiraga/Nanao as Matako Kijima
Jiro Stao as Henpeita Takechi/Hirofumi Arai as Nizo Okada
Ken Yasuda as Tetsuya Murata/Akari Hayami as Tetsuko Murata
Kankuro Nakamura as Isao Kondo/Yuya Yagira as Toushiro Hijikata
Ryo Yoshizawa as Sougo Okita
Source: "Gintama" live-action film official website, Twitter
© Hideaki Sorachi/Shueisha
© 2017 "Gintama" Production Committee