New teaser visual for the upcoming live-action film is revealed on the site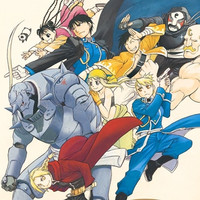 The official website for the upcoming live-action film adaptation of Hiromu Arakawa's Hagane no Renkinjutsushi/Fullmetal Alchemist manga has announced that an offcial fan event is confirmed to be held on July 12. Arakawa's original manga started its serialization in the August 2001 issue of Square Enix's Monthly Shonen Gangan published on the same day of 2001.
While its location has not been finalized, the main cast of the film and the voice cast members from the anime series are scheduled to join. The organizer plans to give a special limited item to the visitors, which is available only on the day. More details will be announced soon.
\7.12ファンイベント開催決定/
#鋼の錬金術師」連載スタートの日である7月12日(水)、"#ハガレン"ファンイベントを開催 あのアニメ版声優キャストや、出演キャスト陣も登壇予定。この日限定の来場者特典も只今計画中です 続報にご期待ください‼ pic.twitter.com/C6Bp67rsDM

— 映画『鋼の錬金術師』公式 (@hagarenmovie) April 24, 2017
Meanwhile, the site also posted a new teaser visual featuring the Elric Brothers on its top page. The new
tagline is written as, "The metal body is a bond of the brothers. A journey to get back everything now
begins." The film's three-month shooting was already finished in Japan in August 2016, and it is set for
a release on December 1, 2017.
2nd trailer English edition
1st trailer English edition
Flyer visual
"Fullmetal Alchemist Exhibition" will be held in Tokyo and Osaka this fall.
Source: "Fullmetal Achemist" live-action film official website