All of the main cast will reprise their roles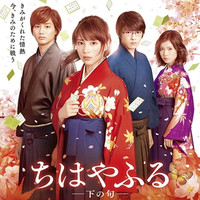 One year after the release of the second part "Shimo no Ku" (The Second Line) last April, the title of the third live-action film adaptation of Yuki Suetsugu's shoujo manga series Chihayafuru is announced as "Musubi" (The End) today, and its release in 2018 is also confirmed. Producer Naoki Kitajima said that it is expected be the final installment of the live-action series due to the actors' age.
The first two films, "Kami no Ku" (The First Line) and "Shimo no Ku" were filmed together in summer of 2015. The 111-minute first one was released on March 19, 2016, and earned 1.63 billion yen, then the 102-minute second one followed on April 29 of the year with 1.22 billion yen.
The third film "Musubi" is set two years after the second film, all of the main cast members including 18-year-old Suzu Hirose as the protagonist Chihaya Ayase are confirmed to reprise their roles. The announced four new cast members are:
Mio Yuuki as Sumire Hanao (Mizusawa High School Karuta Club new member)
Yuuto Sano as Akihiro Tsukuba (Mizusawa High School Karuta Club new member)
Kaya Kiyohara as Iori Azuma (The current semi Queen, Chihaya's rival)
Kento Kaku as Hisashi Suou (The current strongest Meijin/Master of Karuta)
The shooting of the third part will be held between early May and the end of June.
"Chihayafuru: Kami no Ku/Shimo no Ku" trailer
"Kami no Ku" poster visual
"Shimo no Ku" trailer
"Shimo no Ku" poster visual
via: Eiga.com
© 2016 Movie "Chihayafuru" Production Committee
© Yuki Suetsugu/Kodansha