"The first chapter" is set to open in Japan August 4, 2017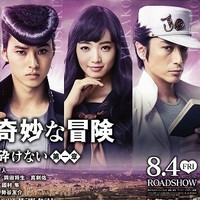 Following the 30-second teaser in early March, the official website for the upcoming film JoJo's Bizarre Adventure: Diamond Is Unbreakable Chapter I today released a 90-second full trailer to introduce its main cast members in the town of Morioh filmed in Sitges, Spain, along with a new character visual banner. The new tagline attached to the banner is "A Strange Fate Starts Moving."
The film's official Instagram page has also opened. The first chapter of the film series based on the fourth story arc of Hirohiko Araki's long-running JoJo's Bizarre Adventure manga, directed by 56-year-old Takshi Miike (Yatterman, Terra Formars), is set for a release in Japan on August 4, 2017. Currently no release plan for the following chapters has been announced.
キャラクターバナーも完成!
ジョジョこと東方仗助や康一、由花子をはじめとする本作に登場するキャラクターたちが集合!
<杜王町>に今後振りかかるであろう"奇妙"な事件、果たして、仗助たちを待ち受ける運命とは!?"奇妙"な運命が、動き出す――。 #ジョジョ映画 pic.twitter.com/7D0d3CN1ZV

— 映画『ジョジョの奇妙な冒険』公式 (@jojomovie_jp) April 26, 2017
---
Teaser trailer
Teaser poster visual
---
Kento Yamazaki as Josuke Higashikata/Yusuke Iseya as Jotaro Kujo
Ryunosuke Kamiki as Koichi Hirose/Nana Komatsu as Yukako Yamagishi
Masaki Okada as Keicho Nijimura/Mackenyu as Okuyasu Nijimura
Takayuki Yamada as Anjuro Katagiri, aka Angelo
Announced main cast:
Josuke Higashikata: Kento Yamazaki (22/Yuuki Hase in One Week Friends)
Jotaro Kujo: Yusuke Iseya (40/Aoshi Shinomori in Rurouni Kenshin)
Koichi Hirose: Ryunosuke Kamiki (23/Akito Takagi in Bakuman.)
Okuyasu Nijimura: Mackenyu (19/Arata Wataya in Chihayafuru)
Keicho Nijimura: Masaki Okada (27/Hibito Nanba in Space Brothers)
Yukako Yamagishi: Nana Komatsu (20/Miho Azuki in Bakuman.)
Anjuro Katagiri/Angelo: Takayuki Yamada (32/Hideyoshi Hashiba in Nobunaga Concerto)
Tomoko Higashikata: Arisa Mizuki (39/Reiko Kudo in Reiko, the Psyche Resurrected)
Ryohei Higashikata: Jun Kunimura (60/Kubal in Attack on Titan)
Source: "JoJo's Bizarre Adventure: Diamond Is Unbreakable" live-action film official website, Twitter
© 2017 Movie "JoJo's Bizarre Adventure: Diamond Is Unbreakable 1st Chapter" Production Committee
© LUCKY LAND COMMUNICATIONS/SHUEISHA