Masataka Kubota (Death Note TV drama)-starring film will be released as planned on July 29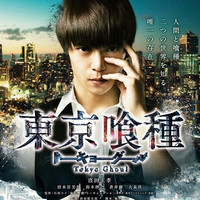 Following the 30-second teaser two weeks ago, the official website for the upcoming live-action film adaptation of Sui Ishida's dark fantasy manga series Tokyo Ghoul today released a teaser visual featuring 28-year-old Masataka Kubota as the protagonist Ken Kaneki and five new cast photos. The new tagline is "Human and Ghoul. The One and Only Existence who Knows The Two Worlds."
Despite the unexpected retirement announcement by 22-year-old actress Fumika Shimizu who played the main heroine Touka Kirishima, the Kentaro Ogiwara (Snowman, Anniversary)-directed film is confirmed to be released in theaters across Japan as originally planned on July 29, 2017.
Teaser visual
---
Masataka Kubota as Ken Kaneki
◤◢◤◢ キャラクター紹介① ◤◢◤◢

◆金木研(かねき けん/カネキ) #窪田正孝
読書好きの内気な学生。"喰種(グール)"であるリゼの臓器の一部を移植された事で、半"喰種"となってしまい、"喰種"の世界で生きる事を余儀なくされる。#東京喰種 pic.twitter.com/wgGf7dtxKO

— 映画『東京喰種 トーキョーグール』 (@tkg_movie) April 26, 2017
Fumika Shimizu as Touka Kirishima
◤◢◤◢ キャラクター紹介② ◤◢◤◢

◆霧嶋董香(きりしま とーか/トーカ)/ #清水富美加
喫茶「あんていく」でアルバイトする "喰種(グール)"の女子高生。乱暴な言葉遣いで他を寄せ付けない行動が目立つが、仲間を思う気持ちが強く、心優しい面もある。#東京喰種 pic.twitter.com/Oo2wjfKodr

— 映画『東京喰種 トーキョーグール』 (@tkg_movie) April 26, 2017
Yu Aoi as Rize Kamishiro
◤◢◤◢ キャラクター紹介③ ◤◢◤◢

◆神代利世(かみしろ りぜ/リゼ) #蒼井優
カネキが想いを寄せる眼鏡姿の美しい女性。趣味は読書で、日頃はお淑やかで理知的に振る舞うが…。#東京喰種 pic.twitter.com/QqvXFCJPPI

— 映画『東京喰種 トーキョーグール』 (@tkg_movie) April 26, 2017
Nobuyuki Suzuki as Kotaro Amon
◤◢◤◢ キャラクター紹介④ ◤◢◤◢

◆亜門鋼太朗(あもん こうたろう) #鈴木伸之
己の正義を信じ、喰種(グール)討伐に燃える「喰種対策局」<CCG>のホープ。"喰種"により歪められたこの血なまぐさい世界を正すべく、"喰種"を駆逐することに命を懸ける。#東京喰種 pic.twitter.com/7YWudfouRt

— 映画『東京喰種 トーキョーグール』 (@tkg_movie) April 26, 2017
Yo Oizumi as Kureo Mado
◤◢◤◢ キャラクター紹介⑤ ◤◢◤◢

◆真戸呉緒(まど くれお) #大泉洋
対喰種用に開発された特殊武器『クインケ』をこよなく愛するベテラン捜査官で、これまで数多くの"喰種"を葬ってきた。亜門と共に、喫茶店「あんていく」がある20区の捜査を開始する。#東京喰種 pic.twitter.com/XsLam2uAiZ

— 映画『東京喰種 トーキョーグール』 (@tkg_movie) April 26, 2017
---
Japanese teaser
English teaser
Source: "Tokyo Ghoul" live-action film official website, Twitter
© Sui Ishida/Shueisha
© "Tokyo Ghoul" Production Committee