General sale of the tickets will begin on July 29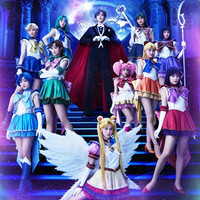 The Pretty Guardian Sailor Moon franchise's 25th anniversary project site today released a key visual for the next fifth musical show "-Le Mouvement Final-" and announced its new cast including the three members of Starlights and its performance schedule In Tokyo, Aichi, and Osaka. After the eight years hiatus, the musical adaptations of Naoko Takeuchi's internationally popular shoujo manga series was relaunched with new cast members in 2013 as part of the franchise's 20th anniversary project. This fifth show is confirmed to the final chapter of the current musical project.
"-Le Mouvement Final-" schedule:
Tokyo AiiA 2.5 Theater (Tokyo): September 8-18, 2017
Ai Plaza Toyohashi (Aichi): September 23-24
Umeda Art Theater - Theater Drama City (Osaka): September 29 - October 1
General sale of the tickets (S-seat: 8,800 yen/A-seat: 6,800 yen) will begin at 10:00 am on July 29.
5th Musical Main Cast:
Sailor Moon/Usagi Tsukino: Hotaru Nomoto
Sailor Mercury/Ami Mizuno: Yume Takeuchi
Sailor Mars/Rei Hino: Karen Kobayashi
Sailor Jupiter/Makoto Kino: Kaede
Sailor Venus/Minako Aino: Rimo Hasegawa
Sailor Uranus/Haruka Tenoh: Shu Shiotsuki
Sailor Neptune/Michiru Kaioh: Sayaka Fujioka
Sailor Pluto/Setsuna Meioh: Mieko Ishi
Sailor Saturn/Hotaru Tomoe: Mirai
Sailor Star Fighter/Kou Seiya: Meiku Harukawa
Sailor Star Maker/Kou Taiki: Riona Tatemichi
Sailor Star Healer/Kou Yaten: Saki Matsuda
Princess Kakyuu: Asami Okamura
Sailor Galaxia: Coco Igarashi
Sailor Iron Mouse: Shion Aoki
Sailor Tin Nyanko: Miu Hashigaki
Sailor Aluminum Seiren: Yuka Kobayashi
Sailor Lead Crow: Iriya Yuuto
Shadow Galactica: Yukari Shiihara, Yoshimi Hidano, Ayumi Sagisaka, Ayano Nagasawa
Sailor Chibi Moon/Chibiusa: Airi Kanda
Helios: Hikaru Hirayama
Mamoru Chiba/Tuxedo Mask: Yuga Yamato
---
1st show "-La Reconquista-" digest
DVD jacket
2nd show "-Petite Étrangère-" digest
DVD jacket
3rd show "-Un Nouveau Voyage-" digest
DVD jacket
4th show "-Amour Eternal-" digest
DVD jacket
---
Source: Sailor Moon 20th anniversary project official website
© Naoko Takeuchi
© Naoko Takeuchi, PNP/Kodansha, Nelke Planning, Dwango