32-year-old singer reprises her role as Rapunzel in "Tangled: The Series"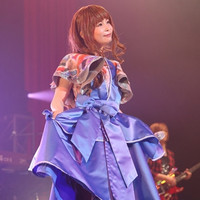 Two days before her 32nd birthday, Japanese singer/otaku idol Shoko Nakagawa, aka Shokotan, held special concerts "Shoko Nakagawa Birthday Live 2017 ~Reborn~" at Zepp DiverCity Tokyo twice (15:30, 18:00) yesterday on May 3. The sold-out concerts drew 2,200 fans in total. The title implies her determination to "newly reborn" because her father Katsuhiko Nakagawa died in September 1994 when he was 32.
Nakagawa, who voiced the protagonist Rapunzel in Walt Disney Animation Studios' 2010 CG film Tangled, is set to reprise her role in the upcoming TV series Tangled: The Series to premiere in Japan on May 14. She also performed her Japanese OP song for the TV series, "Wind in my hair/Kami ni Kaze Ukete" in the concert.
---
Photos posted on her Twitter
バースデーライブグッズたちだよ!! pic.twitter.com/X2SW9CcaOB

— 中川翔子 (@shoko55mmts) May 3, 2017
リハーサルなうお!
バースデーライブ! pic.twitter.com/XikgEAAwxC

— 中川翔子 (@shoko55mmts) May 3, 2017
ありがとう!!!昼公演#しょこたん生誕祭 pic.twitter.com/hM4Y3C3SUh

— 中川翔子 (@shoko55mmts) May 3, 2017
みんなあああああああああありがとう( ;∀;)ぼっちじゃない、貪欲なフレンズがいる#しょこたん生誕祭 pic.twitter.com/BGBVaATlXO

— 中川翔子 (@shoko55mmts) May 3, 2017
夜公演ありがとう!!!

#しょこたん生誕祭 pic.twitter.com/FLY3o1lnOc

— 中川翔子 (@shoko55mmts) May 3, 2017
おわっちゃったあああああああああああああああ
楽しかったたああああああああ
生きた!みんなと!#しょこたん生誕祭 pic.twitter.com/SwGPwELjqC

— 中川翔子 (@shoko55mmts) May 3, 2017
ギザレンジャーと!!!
過去最高にげんき!
過去最高に楽しかった瞬間たち

ありがとう!
十年間ありがとうみんな
歌えてライブできてしあわせな人生だった#しょこたん生誕祭 pic.twitter.com/leo24Sp44e

— 中川翔子 (@shoko55mmts) May 3, 2017
&tbsp;
フライングバースデー。
コーリングロケーションの歌詞にある、

いつか あの日の君を追い越してしまった後もいつだってそこにいて見守っていてね、いつもここにいるから

いつか32になる時に歌えていたなら絶対歌うと思って10年、不思議!叶った!#しょこたん生誕祭 pic.twitter.com/SwsEgrgRVa

— 中川翔子 (@shoko55mmts) May 3, 2017
&nbsp
ピンクにオレンジに空色に染まる世界
思い出が走馬灯のように駆け巡る時間
ありがとう
歌えてしあわせ
ライブが1番生きてること感じる場所
ほんとに10年ありがとう

#しょこたん生誕祭 pic.twitter.com/JBMAfX3JRR

— 中川翔子 (@shoko55mmts) May 3, 2017
;
マミタスのうた
〜ソングオブマミタス〜

作詞作曲 中川翔子
アレンジ 演奏 ギザレンジャー
うた 中川翔子とマミタス様

だんだんアップデートされます。今日聴いた人はマミタスのうた 第1章を目撃したことになります!

マママママ#しょこたん生誕祭 pic.twitter.com/2UuoVPMKNJ

— 中川翔子 (@shoko55mmts) May 3, 2017
うわぁぁあサプライズ!
ドラマ あなたのことはそれほど の現場でハッピーバースデーお祝いしていただきビックリ嬉しいです!ドラマの現場でお祝いしていただけるなんて嬉しき人生!
感激!
距離ナシ主婦 横山皆美 頑張ります(^ω^)#あなそれ pic.twitter.com/uURLiswEu8

— 中川翔子 (@shoko55mmts) May 4, 2017
Source: Sony Music Labels press release, Shoko Nakagawa Twitter