DVD/Blu-ray of the stage play adaptation will be available on October 4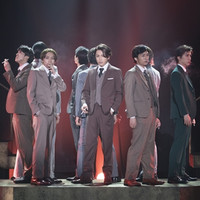 The highly anticipated stage play adaptation of Koji Yanagi's spy mystery novel series JOKER GAME kicked off at Zepp Blue Theater Roppongi in Tokyo on May 4. It is scheduled to be performed eight times till Sunday and its 10,800 yen premium tickets (with a pamphlet and an original good not for sale) were already sold out. For those who couldn't get the ticket or don't live in the Tokyo area, live viewings of the final day performance will be held in 11 theaters across Japan at 17:00.
It is also confirmed that the stage play's DVD and Blu-ray will be released on October 4, 2017. In addition a booklet and an advance entry coupon for the upcoming event, the disc also includes exclusive backstage footage.
---
Key Visual
Miyoshi: Shogo Suzuki (Tani Chiaki/Shinken Green in Samurai Sentai Shinkenger)
Jitsui: Yuuya Kido (Kintaro Touyama in The Prince of Tennis musical)
Kaminaga: Koji Saikawa (Soichiro Susuki in Cheer Boys! stage play)
Lieutenant Sakuma: Shoichiro Oomi (Nova in Arcana Famiglia stage plays)
Amari: Ikkei Yamamto (Shuichiro Oishi in The Prince of Tennis Musical)
Tazaki: Chihiro Okutani (Kaoru Hakaze in Ensemble Stars! on Stage)
Hatano: Gaku Matsumoto (Yakumo Kato/Ao Ninger in Shuriken Sentai Ninninger)
Odagiri: Kaisei Abe (Shinji Koganei in Kuroko's Basketball The Encounter)
Fukumoto: Takeshi Maeda (Ryo Marufuji in Yu-Gi-Oh! GX)
Lieutenant Colonel Yuuki: Masashi Taniguchi (Nagare Tatsumi/Go Blue in Kyuukyuu Sentai GoGoFive)
Colonel Muto: Kousen
Colonel Hermann Wolf (Masashi Yamazaki)/Gordon (Orakio)
Flyer visual
Source: Marvelous press release
©Koji Yanagi, KADOKAWA/JOKER GAME ANIMATION PROJECT
©JOKER GAME THE STAGE PROJECT