Otaku data aggregator @kasumi1973 is back with a more complete chart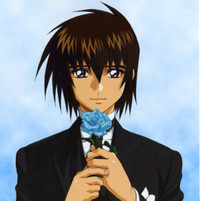 Launched in 1978, Animage was the first non-industry magazine about anime and manga. It's had a relationship with Studio Ghibli and serialized Hayao Miyazaki's Nausicaa manga from 1982-1994. And, In 1979/1980, it introduced an Annual Anime Grand Prix in which readers voted for their favorite anime, episode, character, voice actor and actress, and song. Last fall, otaku data aggregator @kasumi1973 constructed a chart for ALL their leading ladies, and followed with a highlight of the guys-by-decade. Now, they're back the full male listing.
Here are the top Animage picks. The Grande Prix wasn't split into gender catagories until '83. Before that, it was Captain Harlock for '79, Char Aznable, then Cyborg 009's Joe Shimamura for 1980 (they did two that year) and Six God Combination Godmars' Takeru Myoujin for both 1981 and 1892.
Blogged trend observations were that leading series included:
Late 80's - City Hunter and Saint Seiya
90's - Early 90's Yu Yu Hakusho
Late 90's - Gundam Wing and Evangelion
Early 00's - Gundam SEED and Full Metal Alchemist
Late 00's - Gundam 00 and Code Geass
10's - Inazuma Eleven
2015 - Mr. Osomatsu
It was also pointed out that there was no Prince of Tennis or Tiger & Bunny - leading to the question of whether fans of those series read Animage.
Leading characters
1st place: Kira Yamato 6 years (2002 - 2007)
2nd place: Athrun Zala 5 years (2002 - 2006)
3rd place: Ryo Saeba 4 years (1987 ~ 1990)
3rd place: Ranma Saotome 4 years (1989 ~ 1991)
3rd place: Kurama 4 years (1992 ~ 1995)
3rd place: Kirino Ranmaru 4 years (2011 - 2014)
Previously compiled favorite female character chart
------
Scott Green is editor and reporter for anime and manga at geek entertainment site Ain't It Cool News. Follow him on Twitter at @aicnanime.