Their autograph session event will be held at Shosen Book Tower in Tokyo on May 27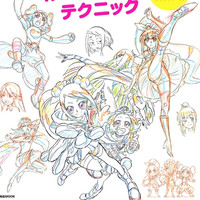 On May 12, Japanese publisher Genkosha will release "Battle Heroine Drawing & Design Technique," a new character drawing guide book supervised by two animators/character designers who are famous for their works for Toei Animation's long-running PreCure series, 51-year-old Hisashi Kagawa (Fresh PreCure!) and 48-year-old Yoshihiko Umakoshi (HeartCatch PreCure!). Using an original story and characters newly created for the book, the two explain how to design, draw and animate attractive battle heroines. Check out the sample pages provided by the publisher below.
In commemoration of the release of the 2,000 yen book, Shosen Book Tower in Akihabara will hold their autograph session event for the purchasers at 18:00 am on May 27.
Cover
Contents
"Fresh PreCure!" characters designed by Kagawa
"HeartCatch PreCure!" characters designed by Umakoshi
"Face balance and eye expressions"
"Various ways to draw facial expressions"
Original charatcer Lovely Orange created by Kagawa
Original character Pure Mandarin created by Umakoshi
Image boards
Source: Genkosha press release