Advance screening event will be held in Roppongi on June 17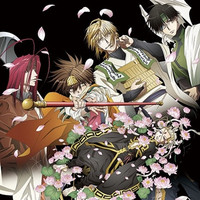 The official website for the upcoming TV anime adaptation of Kazuya Minekura's adventure manga Saiyuki Reload Blast is today updated a new key visual featuring its main characters and also posted a 100-second second PV introducing its character voices and the OP song "move on! Ibaramichi (thorny path)" performed by two-member unit GRANRODEO. The song will be released as their 27th single on August 2. Meanwhile, the anime's yet-titled ED song is confirmed to be provided by four-member rock band Luck Life.
The TV anime Saiyuki Reload Blast is set to premiere on AT-X, Tokyo MX, Sun TV, TV Aichi, and BS11 in the coming July. Its special advance screening event is scheduled to be held at Toho Cinemas Roppongi Hills' Screen 7 twice (16:30, 18:30) on June 17. The four main voice cast: Toshihiko Seki (Genjyo Sanzo), Soichiro Hoshi (Son Goku), Hiroaki Hirata (Sha Gojyo), and Akira Ishida (Cho Hakkai) are confirmed to attend. Pre-orders for the tickets will be accepted on ePlus between 10:00 am
on May 19 and 23:59 on May 29.
2nd PV
New key visual
【新キービジュアル】TVアニメ「最遊記RELOAD BLAST」新キービジュアル公開!三蔵一向に加え、外伝の4人、哪吒太子も!  #最遊記RBhttps://t.co/gUvU8E7Chi pic.twitter.com/0bfMjZFHSU

— アニメ最遊記RELOAD BLAST公式 (@saiyuki_rb) 2017年5月12日
【主題歌情報】TVアニメ「最遊記RELOAD BLAST」主題歌アーティスト決定!OP主題歌はGRANRODEO、ED主題歌はラックライフです!OP主題歌『move on!イバラミチ』は8月2日(水)発売決定! #最遊記RBhttps://t.co/8Di0T67Bqj pic.twitter.com/w4IvzGOYYU

— アニメ最遊記RELOAD BLAST公式 (@saiyuki_rb) 2017年5月12日
---
Main Voice Cast:
Genjyo Sanzo: Toshihiko Seki (Duo Maxwell in Mobile Suit Gundam Wing)
Son Goku: Soichiro Hoshi (Kira Yamato in Mobile Suit Gundam Seed)
Sha Gojyo: Hiroaki Hirata (Sanji in One Piece)
Cho Hakkai: Akira Ishida (Kaworu Nagisa in Neon Genesis Evangelion)
Kougaiji: Takeshi Kusao (Trunks in Dragon Ball Z)
Kanzeon Bosatsu: Rei Igarashi (Precia Testarossa in Magical Girl Lyrical Nanoha)
Taruchie: Chiwa Saito (Homura Akemi in Puella Magi Madoka Magica)
Saitaisai: Junichi Suwabe (Viktor Nikiforov in Yuri!!! on Ice)
Main Staff:
Director: Hideaki Nakano (Aoharu x Machinegun, SERVAMP)
Series Composition Writer: Kenji Konuta (Aoharu x Machinegun, SERVAMP)
Character Designer: Yoko Sato (Gintama, SHIROBAKO episode animation director)
Anime Production: Platinum Vision (SERVAMP)
Source: TV anime "saiyuki Reload Blast" official website, Twitter
© Kazuya Minekura, Ichijinsha/Saiyuki RB Project