More musical shenanigans coming our way!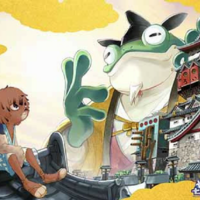 Coming from NanaOn-Sha and iNiS is Project Rap Rabbit, an adorable new rhythm game collaboration from the creators of PaRappa the Rapper and Gitaroo Man: Masaya Matsuura and Keiichi Yano.
There weren't many details announced beyond a quick teaser trailer and Twitter and Facebook accounts for the game, but it's going to be an awesome collaboration for sure since it's from two greats: consider also that Keiichi Yano had a hand in the Ouendan series, which was remade in the US as Elite Beat Agents.
We'll bring you more information as it arises!
[via Gematsu]
-------
Fueled by horror, rainbow-sugar-pixel-rushes, and video games, Brittany is a freelancer who thrives on surrealism and ultraviolence. Follow her on Twitter @MolotovCupcake and check out her portfolio for more.