If you like Hi-Chew candies, you'll want to try this creamy treat with a grape shell!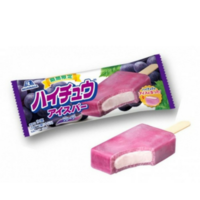 If you like biting into a juicy Hi-Chew fruit candy, you'll love the summertime version of the treat just as much. Morinaga will be selling grape-flavored Hi-Chew ice cream bars starting Monday, May 29.
The grape-flavored ice cream bars will feature the same familiar texture as the candies, but it'll have two layers: a soft inner center with a grape shell. It'll be made with real fruit juice like the candies themselves, so it'll be like a more refreshing piece of Hi-Chew candies.
They'll run you about $1.15 per treat, and they'll be available throughout July in Japanese convenience stores. Sounds delicious!
新商品を発表しますッッッ!

5月29日!コンビニエンスストア限定の新商品!!!!

ハイチュウアイスバー!!!

楽しみにしていてくださいね☆ pic.twitter.com/RiT9ttpnlF

— 森永製菓アイス公式(ティック&Y) (@MorinagaIce) May 10, 2017
[via RocketNews24]
-------
Fueled by horror, rainbow-sugar-pixel-rushes, and video games, Brittany is a freelancer who thrives on surrealism and ultraviolence. Follow her on Twitter @MolotovCupcake and check out her portfolio for more.