Manga art and film costume exhibition is now being held at the Animate Shinjuku store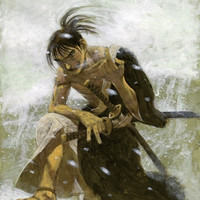 To promote the ongoing theatrical run in Japan, Hiroaki Samura (47), the author of the Mugen no Junin/Blade of the Immortal action jidaigeki manga, and Takashi Miike (56), the director of its live-action film adaptation starring Takuya Kimura (44), attended a talk show held at the Animate Shinjuku store in Tokyo yesterday on May 14. It was the second direct meeting for them since December 2015 when Samura visited the film studio in Kyoto. The filming of the film was held between November 2015 and the middle of January 2016.
In the talk session, the manga author confirmed that he received an offer from a Hollywood studio for a live-action film adaptation in the past. However, he turned it down politely due to drastic changes in the script. The Hollywood version was set in the modern-day New York, and the protagonist Manji, who is an immortal samurai in the Edo period of Japan (1603-1868), was changed to a dishonest trading company employee. He also commented on Miike's film, "When a film adaptation is made, it is often
criticized by the fans of the original, but rather, I have more fun when arrangements are made. As a film,
it was completed with perfect quality. I think it was made as I expected."
The director Miike said that his most favorite character in the film was definitely Shira portrayed by Hayato
Ichihara (30). But only half of his footage that were shot for the film were used in the Japanese theatrical
version. On the other hand, all of his scenes are included in the international version that will be screened
outside of Japan. "If you want to see Shira, please see the international version," he advised.
< 100点の出来に仕上げて頂いた
本日アニメイト新宿店で開催された、原作者:沙村広明×監督:三池崇史による「#無限の住人」スペシャルトーク。お二人が揃って公の場に登場するのは今回初。劇場公開を迎えた今だからこそ、様々なエピソードを明かしてくれました 本日の模様をレポート! pic.twitter.com/D3Z5FBgFFM

— 映画『無限の住人』公式 (@mugenmovie) May 14, 2017
The live-action film Mugen no Junin/Blade of the Immortal was released in 331 theaters in Japan on April 29.
Despite the distributor Warner Brothers Japan's high expectation, it ranked 6th with a very poor 189 million
yen in its opening weekend, then dropped to 8th in the second. It is now considered as one of the biggest box
office bombs of this year based on popular Japanese manga series, following Scarlett Johansson-starring Ghost
in the Shell in April.
---
Meanwhile, the Animate Shinjuku store is now holding an exhibition of the original manga arts and the
costumes used in the film till tomorrow, May 16.
緊急告知カブ!劇場版『無限の住人』の公開を記念して、アニメイト新宿にて原画展&衣装展を開催するカブ!フリー入場なので、ぜひ遊びにきてくださいカブ!※5/14は18時からの開放となりますので、ご注意くださいカブ! #無限の住人 pic.twitter.com/fj7hXZZZhy

— アニメイト新宿 (@animateshinjuku) 2017年5月13日
⚔原画展&衣装展を開催⚔
トークイベントを開催した会場・アニメイト新宿店では、『#無限の住人』原画展&衣装展を開催 力強さをビシビシ感じる原作原画40点、連載開始当時の「アフタヌーン」誌や、劇中使用の衣装と武具を展示中!5月16日までの限定です。ぜひご来場ください‼ pic.twitter.com/WKfQzClp4V

— 映画『無限の住人』公式 (@mugenmovie) May 14, 2017
"Blade of the Immortal" trailer
Poster visual
Source: "Blade of The Immortal" live-action film official Twitter, Movei Natalie