"Fairy Tail: Dragon Cry" dropped out of Top 10 in its 2nd week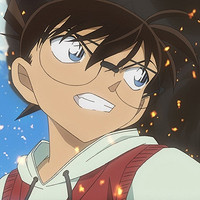 According to the latest box office report in Japan for May 13-14, the 21st Detective Conan feature film Karakurenai no Love Letter/Crimson Love Letter ranked 2nd for four consecutive weeks with 190,000 ticket sales, beating Guardians of the Galaxy Vol. 2 placed in 3rd with 163,143 admissions. The latest installment from Marvel Cinematic Universe made its debut in Japanese theaters last weekend and is expected to end its run with a modest 1 billion yen.
The 21st Conan film was released in Japan on April 15, and has earned a massive 5.82 billion yen in five weeks. Now it has become the second most successful film in the Conan film series and needs 500 million yen more to be the most successful one surpassing last year's 20th film Pure Black Nightmare with 6.33 billion. The record is expected be renewed by the end of this month.
Meanwhile, Fairy Tail: Dragon Cry, the second anime film based on Hiro Mashima's fantasy action manga
series, quickly dropped out of Top 10 in its second week. The 85-minute film was released on May 6 and
ranked 10th in its opening weekend with a so-so 53,888,700 yen, which was 11 % less than the opening
weekend gross of the first film Phoenix Priestess in August 2012.
Weekend box office in Japan (May 13-14, 2017)
1 (1). "Beauty and the Beast"
2 (2). "Detective Conan: Crimson Love Letter"
3 (new). "Guardians of the Galaxy Vol. 2"
4 (3). "The Fate of the Furious"
5 (4). "Tsuioku"
6 (5). "Teiichi no Kuni"
7 (6). "Crayon Shin-chan: Invasion!! Alien Shiriri"
8 (new). "Split"
9 (7). "Last Cop The Movie"
10 (8). "Blade of the Immortal"
"Detective Conan: Crimson Love Letter" trailer
Source: Eiga.com, Movie Walker