"Your Name." DVD/Blu-ray will be released in Japan on July 26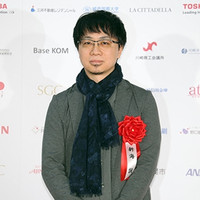 44-year-old anime director Makoto Shinkai was absent from the commendation ceremony for the 26th Annual Japan Movie Critics Awards held at Tokyo Metropolitan Theatre yesterday on May 16, in which he won its best animation director award for his latest anime film Kimi no Na wa./Your Name.. The production producer of the film, Yuichi Sakai attended the event and received the award as his representative. Sakai said, "I'm afraid director Shinkai cannot come due to various circumstances. But I'd like to express my gratitude instead," but left no comments on Shinkai's new project.
Shinkai later explained the reason of his absence on his Twitter as below:
"I received the best animation director award at the Annual Japan Movie Critics Awards. I was not able to attend because I am now working on my new project, but I am very honored. Thank you very much!"
日本映画批評家大賞にて監督賞をいただきました。新作作業中につき僕自身は出席は出来なかったのですが、たいへん光栄に思います。ありがとうございました!
新海誠監督:「君の名は。」で監督賞受賞もプロデューサーが代理出席 新作への言及なし https://t.co/5RMgC0SQKV

— 新海誠 (@shinkaimakoto) 2017年5月16日
The 26th Annual Japan Movie Critics Awards: Animation Category Winners:
Best Film: "Koe no Katachi/A Silent Voice" (Eiko Yamada/Kyoto Animation)
Best Director: Makoto Shinkai for "Kimi no Na wa./Your Name."
Best Voice Actor: Masako Nozawa (Son Goku in Dragon Ball Z)
Diamond Grand Prix: Leiji Matsumoto (Galaxy Express 999, Space Pirate Captain Herlock)
Source: Makoto Shinkai Twitter, Mantan Web