67-year-old manga author will join a talk session on September 2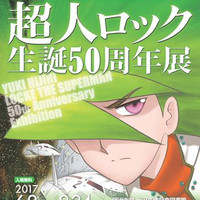 Meiji University in Tokyo has announced that a 50th anniversary exhibition for Yuki Hijiri's long-running sci-fi manga series Chojin Locke/Locke The Superman will be held at its Yoshihiro Yonezawa Memorial Library with four sessions with different exhibits, from June 9 to July 3, July 7 to August 7, August 11 for September 4, and September 8 to 24.
The 67-year-old manga author was a main member of an amateur manga creator group "Sakuga Group" since he was 17, and the first story of Locke The Superman, "Nimbus and the Negative World," featuring an immortal esper Locke who has lived through the human history of thousand years, originally published in the group's doujinshi magazine in 1967. Since then, the series has been serialized in more than 10 Japanese magazines and released over 100 tankobon volumes. It has been also adapted into many radio drama programs and anime film/OVAs.
In the exhibition, more than 200 original manga arts by Hijiri and various sketches including ones from his
amateur days will be displayed. In addition, a short documentary film to explain his drawing procedure will
be screened. The author himself will join a talk session with manga creator belne on the 12th floor of the
university's Liberty Tower (Room 1123) on September 2.
Flyer
Source: Yoshihiro Yonezawa Memorial Library