Less than one-third of its peak of 6.53 million in 1994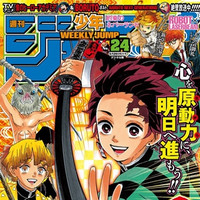 According to the latest numbers reported by Japan Magazine Publishers Association (JMPA) yesterday, the average circulation of Shueisha's signature manga magazine Weekly Shonen Jump in the period between January and March 2017 was confirmed as 1,915,000 copies.
The number was less than one third of its peak of 6.53 million in December 1994 when it had nationally popular series including Dragon Ball (Akira Toriyama), Rurouni Kenshin (Nobuhiro Watsuki), and SLAM DUNK (Masahiko Inoue). And it is the first time for Japan's top-selling manga magazine to dip in circulation below two million since 2008 when the association started reported the verified circulation numbers.
Circulation of other two major Japanese weekly shonen manga magazines have been also falling. Kodansha's Weekly Shonen Magazine, which had 4.36 million copies in its peak of 1995, now prints
964,158 copies in average. Meanwhile, Shogakukan's Weekly Shonen Sunday currently has 319,667
copies, only 14 percent of its peak of 2.28 million in 1983.
Weekly Shonen Jump latest 24th issue of 2017
おはようございます!月曜です。週刊少年ジャンプ24号の発売日です!
表紙&巻頭カラーは、第1回人気投票開催「鬼滅の刃」!
センターカラーの「約束のネバーランド」「青春兵器ナンバーワン」「ROBOT×LASERBEAM」も必見。ぜひ!/M pic.twitter.com/HWR7fmtqXa

— 少年ジャンプ編集部 (@jump_henshubu) May 14, 2017
Source: Japan Magazine Publishers Association via: Yomiuri Shimbun