Toru Furuya, Toshiyjki Morikawa newly join the voice cast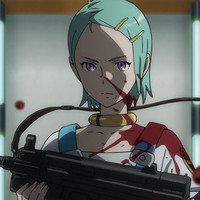 The official website for Bone's Eureka Seven anime franchise today announced that "Hi-Evolution 1," the first part of the upcoming trilogy film project Eureka Seven Hi-Evolution based on the 50-episode first TV anime series, will be released in 107 theaters across Japan on Septmeber 16, 2017, and that its "MoviChike" advance tickets with a three-type clear file will go on sale at the theaters this Saturday. The first part will be released simultaneously in the US by FUNimation.
While all of the main voice cast are confirmed to reprise their roles in the films, 63-year-old Toru Furuya (Amuro Ray in Mobile Suit Gundam) joins as the protagonist Renton Thurston's father Adrock. The character had no voices in the TV anime episodes. And 50-year-old Toshiyuki Morikawa is newly cast as Holland Novak in place of the previous series' Keiji Fujiwara who has been in hiatus due to sickness since last summer.
NEWS更新
『「ハイエボリューション1」の公開初日が9月16日(土)に決定!さらに数量限定クリアファイル付きのムビチケカードが5月20日(土)より発売開始!!』https://t.co/twJOukz39i#エウレカ #eureka_HE pic.twitter.com/h7bycxtYYK

— エウレカセブン ハイエボリューション公式 (@EUREKA_HI_EVO) May 18, 2017
---
Teaser
The trilogy will again feature the two protagonists of the first TV anime series, Renton Thurston and
Eureka, but will also introduce the "First Summer of Love" incident that occurred 10 years before the
TV anime story and was never directly illustrated in it. All three main staff members of the TV series,
Tomoki Kyoda (general director), Dai Sato (screenplay writer), and Kenichi Yosida (character designer)
are set to return. The second and third parts will follow in 2018 and 2019.
Source: "Eureka Seven Hi-Evolution" official website
©2017 BONES/Project EUREKA MOVIE