Advance screening event will be held on June 27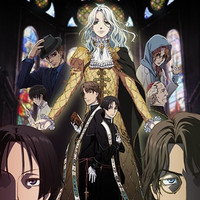 The official website for the upcoming TV anime adaptation of Rin Fujiki's mystery novel series Vatican Kiseki Chosakan/Vatican Miracle Examiner is updated with a new key visual and announces that it will premiere on Wowow on July 7 then also on Tokyo MX an KBS Kyoto one week later.
<キービジュアル公開>バチカン奇跡調査官最新キービジュアルが公開されました!!新キャラクター&キャストも解禁!是非公式サイトをチェックしてください→https://t.co/RmaIVAsfnM #奇跡調査官 pic.twitter.com/pwU7ppmzmj

— TVアニメ「バチカン奇跡調査官」公式 (@kisekichosakan) May 19, 2017
In addition to the previously announced voice cast for the two protagonists, Nobuhiko Okamaoto as
Hiraga Joseph Kou and Junichi Suwabe as Roberto Nicholas, Souma Saito and Masashi Ebara are newly
confirmed to join as Lauren Di Luca and Archbishop Sauro, respectively.
新キャラ&キャスト情報も更新!
謎多き天才のローレン・ディルーカ役に斉藤壮馬さん、平賀とロベルトの良き上司サウロ大司教役に江原正士さんが決定しました!https://t.co/kngvg5RI8J #奇跡調査官 pic.twitter.com/gxIEZTl7N9

— TVアニメ「バチカン奇跡調査官」公式 (@kisekichosakan) May 19, 2017
Ahead of the TV premiere, an advance screening event will be held at the Marunouchi Piccadilly theater in Tokyo
on June 27. The two main voice cast, Okamoto and Suwabe are confirmed to join the event for a talk session.
<先行上映会>さらに6月27日、東京・丸の内ピカデリーにて先行上映が開催決定です!チケット情報は後日発表いたします。詳細をお待ちください! https://t.co/w15Pwkg5nz #奇跡調査官 pic.twitter.com/nm1JHsQWOk

— TVアニメ「バチカン奇跡調査官」公式 (@kisekichosakan) May 19, 2017
Teaser PV
TV Anime Main Staff:
Director: Yoshitomo Yonetani (The King of Braves GaoGaiGar)
Series Composition: Seishi Minakami (A Certain Scientific Railgun)
Anime Character Design: Kazunori Iwakura (Alice & Zouroku)
Art Director: Toru Koga
Sound Director: Yoshikazu Iwanami
Director of Photography: Yutaka Kurosawa
Music: Yoshiaki Fujisawa (Love Live!, Dimension W)
Music Production: Lantis
Anime Production: J.C.STAFF
OP Theme: SCREEN mode
ED Theme: Nobuhiko Okamaoto
---
The series features 24-year-old Japanese-American protagonist Hiraga Joseph Kou, who is a genus scientist,
and his partner 27-year-old Roberto Nicholas, an expert in reading ancient documents and deciphering codes.
They belong to Vatican City's secret organization "Seito no Za (The Seat of Saint)" to investigate the miracles
reported from all over the world. As the miracle examiners, the two research the miracle cases and expose
a plot behind them.
Kadokawa Horror Novel edition 1st and 2nd volume covers
Source: TV anime "Vatican Miracle Examiner" official website, Twitter
©2017 Rin Fujiki, THORES Shibamoto/KADOKAWA/"Vatican Miracle Examiner" Production Committee