Trinkets so cute you'll want to collect them all!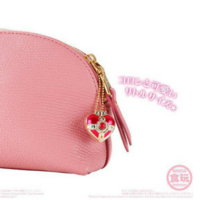 Bandai previously released a series of Sailor Moon trinkets known as the Little Charm series, and now there's a second wave coming. This wave will feature transformation items hanging from golden ball chains, with each charm about three centimeters in size. There's a set of ten that will retail for about 3996 yen.
Included in this wave is the Cosmic Heart Compact, Prism Heart Compact, Spiral Heart Moon Rod, Sailor Uranus' Lip Rod, Sailor Saturn's Lip Rod, and Sailor Pluto's Lip Rod, modeled after the lip creams you could purchase previously.
Collect all of them for a full set of Sailor Moon goodness!
[via Tokyo Otaku Mode]
-------
Fueled by horror, rainbow-sugar-pixel-rushes, and video games, Brittany is a freelancer who thrives on surrealism and ultraviolence. Follow her on Twitter @MolotovCupcake and check out her portfolio for more.