This ice cream flavor sounds too refreshing!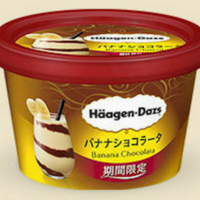 Häagen-Dazs is always up to something delicious, especially Häagen-Dazs Japan. This time the company has come up with a tasty new flavor that brings us the best of two delicious worlds: banana and chocolate.
The latest ice cream flavor is called Banana Chocolate, and it features a delicious banana with bitter chocolate ice cream. It also has a 21 percent fruit/fruit juice content, so it's got an interesting juicy taste from the bananas. Sounds refreshing.
You can get the mini cup (3.7 oz) in supermarkets and convenience stores in Japan beginning on June 27, and hopefully in the West one day if it really catches on. We love our bananas over here, too!
[via Gematsu]
-------
Fueled by horror, rainbow-sugar-pixel-rushes, and video games, Brittany is a freelancer who thrives on surrealism and ultraviolence. Follow her on Twitter @MolotovCupcake and check out her portfolio for more.