General sale of the show at Takarazuka Grand Theater will begin on December 2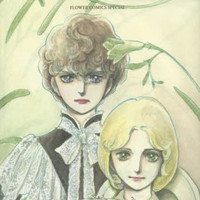 It is confirmed today that a stage play adaptation of Moto Hagio's classic shoujo manga series in the 1970s, Poe no Ichizoku (The Poe Clan) will be performed by all-female musical theater troupe Takarazuka Revue's Hana-gumi (Flower Troupe) from January to March 2018.
The manga telling the story of a family of vampires live through from the 18th to the 20th centuries and the protagonist Edgar who is destined to live forever in form of a boy was serialized in Shogakukan's Bessatsu Shoujo Comic from 1972 to 1976, then compiled in five tankobon volumes. A live-action TV drama adaptation loosely based on the manga, titled Stranger ~Bakemono ga Jiken wo Abaku~ (Stranger: The Monster Discloses Incidents) was aired on TV Asahi on March 27, 2016.
The first stage play adaptation is written/directed by Shuichiro Koike who has worked for Takarazuka Revue since 1986. His notable works at the theater include the adaptation of Yoshiki Tanaka's space
opera novel series Legend of the Galactic Heroes in 2012 and 2013, and that of Nobuhiro Watsuki's
shonen action manga series Rurouni Kenshin in 2016. He had asked a permission for the adaptation
of Poe no Ichizoku from Hagio since 1985. After several refusals by the manga author who had turned
down any offers, they have reached an agreement for the stage play.
Hana-gumi's two top stars, Rio Asumi (otokoyaku/male role) and Ayase Senna (musumeyaku/female
role) are set to play the leads.
The Poe no Ichizoku stage play will be performed first at Takarazuka Grand Theater in Hyogo Prefecture
from January 1 to February 5, then at Tokyo Takarazuka Theater from February 16 to March 25. Advance
tickets for the shows at the Grand Theater will go on sale December 2, then that of the Tokyo Theater
will be available from January 14.
Reissue edition box cover/1st volume
2nd/3rd
4th/5th
via: Comic Natalie