General sale of the 8,900/7,900 yen advance tickets will begin on June 3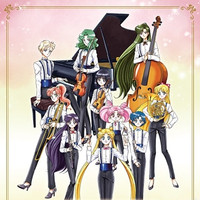 The official website for "Pretty Guardian Sailor Moon Classic Concert" to be held at Tokyo Metropolitan Theatre on August 2 and 3 opens today with a key visual featuring 10 Pretty Guardians in formal costume for a classical music concert. Usagi, standing as conductor, is surrounded by the other nine holding their instruments.
【更新】8月2日、3日に開催される「美少女戦士セーラームーンクラシックコンサート」

ついに!10戦士勢揃いのキービジュアルが完成しました

そして早くも追加公演が決定!
追加公演のFC先行販売もスタート

詳しくはコチラからhttps://t.co/Bc5e100MaS pic.twitter.com/TSpRBNkKBp

— セーラームーン25th公式 (@sailormoon_25th) May 24, 2017
As one of the memorial events for the franchise's 25th anniversary, the first classic concert featuring the
theme songs and soundtrack music from the Pretty Guardian Sailor Moon anime series will be held at 19:00
on August 2, then at 14:00 and 19:00 on the following day. General sale of the advance tickets (8,900 yen
for the S seats/7,900 yen for the A seats) will begin on June 3.
29-year-old clarinettist Makoto Yoshida will conduct Tokyo Philharmonic Orchestra, the oldest classical orchestra
in Japan founded in 1911. While Akiko Kosaka (Sailor Moon musical music director) and Yoko Ishida (Sailor
Moon R ED song "Otome no Policy") will perform in the concert as guest artists, Kotono Mitsuishi, the voice
Usagi Tsukino/Sailor Moon in all anime series, will also join as narrator.
Source: "Sailor Moon" 25th anniversary project site