Both series start today, 5/24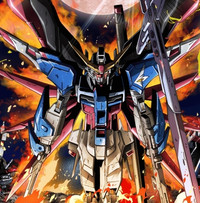 Prepare... to... launch! More Mobile Suit Gundam goodness is coming to Crunchyroll courtesy of our pals at Nozomi Entertainment, and that means that the high-def remasters of Mobile Suit Gundam Seed and sequel series Mobile Suit Gundam Seed Destiny begin streaming today!
Both Mobile Suit Gundam Seed and Mobile Suit Gundam Seed Destiny start today 5/24 at 4pm PST and will be available to members worldwide except Asia!
Synopsis
"The tensions mounted between the Earth Alliance and the ZAFT Forces caused by the 'Bloody Valentine' tragedy have erupted into an all-out war." The Earth Alliance's mobile armor forces and tanks launch...mobile suits are destroyed one after another...


"It seemed a foregone conclusion that the Earth Alliance, with its superior numbers, would be victorious. But this initial assessment proved to be false. Almost 11 months have passed since the conflict began, with no end in sight..."
---
Patrick Macias is editor in chief of Crunchyroll News & Otaku USA magazine.
He is currently serializing his latest writing project, MONDO TOKYO, on Wattpad.