Highly-articulated 7-inch figure first announced last November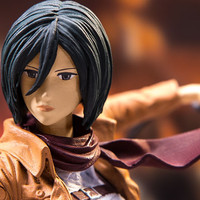 After being announced last November, Todd McFarlane Toys is starting to ship its highly-anticipated Mikasa Ackerman figure. The 7-inch figure features charachter specific details and a branded stand along with other details such as articulated 3D Manuver Gear and her signature scarf. Images of the figure are embedded below and enlarged to show off detail.
The figure itself will retail for $19.99 and be available starting this week at all major retailers.