Tappei Nagatsuki's light novel series has printed over 3.1 million copies in Japan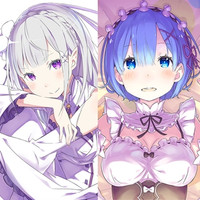 Kadokawa announced today that "Re:Zero − Starting Life in Another World: Shinichirou Otsuka Art Works Re:BOX," the first art book of the illustrator for Tappei Nagatsuki's popular light novel series, will be released in Japan on September 23. The Kumamoto-born artist is also known for his character design works for Banpresto's Nintendo Game Boy Advance game Summon Night: Swordcraft Story (2003) and Spike Chunsoft's PSP game series CONCEPTION (2012, 2013).
The fantasy series was originally posted on the amateur novel contribution site "Shousetsuka ni Narou" (Let's Become a Novelist) in April 2012, then has been published from Kadokawa's light novel imprint MF Bunko J since January 2014. The latest 12th volume of the main story arc was released on March 25 of this year, and the whole series including its short story collections and spin-offs has printed over 3.1 million copies in Japan.
In addition to the art book featuring the Re:Zero main characters, including Rem and Emilia (and probably
Subaru, the press release says), the 4,320 yen set also comes with two novel books that contain short
stories that were released as bonus items for purchasers at selected stores in the past and have never been
included in the previous bunko editions. The total pages of the two books is 450 (the average page number
of a Japanese light novel book is around 300).
---
Novel 1st volume (January 2014) and 2nd volume (February 2014)
3rd (March 2014) and 4th (June 2014)
5th (October 2014)and 6th (March 2015)
7th (September 2015) and 8th (March 2016)
9th (September 2016) and 10th (October 2016)
11th (December 2016) and 12th (March 2017)
Short Story Collections 1st volume (December 2014) and 2nd volume (June 2016)
EX1 "Shishiou no Mita Yume" (June 2015) and EX2 "Kenki Renka" (December 2015)
Source: Kadokawa press release
© Tappei Nagatsuki illustration: Shinichirou Otsuka