The CD will also include a new song "Saigo no Love Letter" by Haruka Tomatsu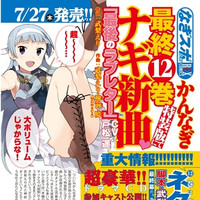 The official Twitter for Ichijinsha's Monthly Comic Rex confirmed today that the special edition of the final 12th volume of Eri Takenashi's fantasy manga series Kannagi: Crazy Shrine Maidens will come with a newly-recorded drama CD on a script by the manga author herself. All of the main voice cast from the 14-episode 2008 TV anime are confirmed to reprise their roles.
The "spoiler" CD will tell what happen after the manga's final chapter to be published in the upcoming September 2017 issue of the magazine. The issue will be released on the same day as the 12th tankobon, July 27.
In addition to the drama part, the CD will also include a new song "Saigo no Love Letter (The Last Love Letter)" performed by Haruka Tomatsu, which is inspired by a song sung by her character Nagi in the manga story. The manga author Takenashi wrote the lyrics and co-composed the music with Satoru Kousaki
(MONACA), who worked on the OP/ED theme songs, insert songs, and soundtrack music for the 2008 anime.
Confirmed voice cast of the drama CD
Nagi: Haruka Tomatsu
Jin Mikuriya: Hiro Shimono
Tsugumi Aoba: Miyuki Sawashiro
Zange: Kana Hanazawa
Daitetsu Hibiki: Takanori Hoshino
Meguru Akiba: Tetsuya Kakihara
Takako Kimura: Risa Hayamizu
Shino Oukouchi: Mai Nakahara
【最新情報解禁☆】7/27発売のかんなぎ12巻特装版にて、ナギの新曲&ネタバレドラマCDが収録!!キャストは戸松遥さん、下野紘さん、沢城みゆきさん、花澤香菜さん、星野貴紀さん、柿原徹也さん、早水リサさん、中原麻衣さんと超豪華キャストでお届けします!新曲作曲は武梨先生と神前暁さん☆ pic.twitter.com/2ogt9jvSNr

— REX編集部@最新7月号本日27日発売 (@Re_REX) 2017年5月26日
Manga 1st and 11th volume covers
Source: Monthly Comic Rex official Twitter
© Eri Takenashi/Ichijinsha