Un nouvel opus de la saga Gundam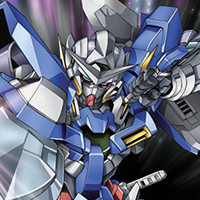 Après Mobile Suit Gundam Seed, c'est une autre série de la célèbre saga qui arrive sur Crunchyroll en VOSTFR : Mobile Suit Gundam 00 (Kidô Senshi Gundam 00). Sortie au Japon il y a tout juste dix ans, cette série composée de deux saisons de 25 épisodes est réalisée par Seiji Mizushima (FullMetal Alchemist, Shaman King). L'intégrale de la saison 1 est déjà disponible dès maintenant, aussi bien en accès gratuit que via l'abonnement Premium (pour un visionnage sans publicité) sur www.crunchyroll.com/mobile-suit-gundam-00. La saison 2 suivra dans quelques semaines.
RÉSUMÉ
En l'an 2037, toutes les ressources naturelles de notre monde sont épuisées. Trois ascenseurs orbitaux sont alors construits pour capter la lumière du soleil par les trois fédérations majeures de la Terre. Mais toutes les nations ne bénéficient pas des retombées de cette technologie et les dissensions entre les fédérations et les pays neutres causent guerres et terrorisme pour acquérir la suprématie de l'énergétique.
À PROPOS DE GUNDAM
– Au Japon, Gundam est une véritable institution. Créée en 1979, la première série a révolutionné le robot géant dans les animés. Depuis, la saga a fait l'objet de dizaines de séries TV, films et OAV, toutes produites par le studio Sunrise.
– La série Mobile Suit Gundam 00 est réalisée par Seiji Mizushima (FullMetal Alchemist, Shaman King) et le scénario écrit par Yôsuke Kuroda (Highschool of the Dead, Saint Seiya – Hades Elysion, Hellsing).
FICHE TECHNIQUE
Titre original : Kidô Senshi Gundam 00 (機動戦士ガンダム00)
Année : 2007
Format : 2 saisons de 25 x 24 minutes
Auteurs : Hajime Yatate, Yoshiyuki Tomino
Réalisateur : Seiji Mizushima
Studio de production : Sunrise
TERRITOIRES
Mobile Suit Gundam 00 est disponible sur Crunchyroll dans le monde entier, excepté en Asie.
©SOTSU, SUNRISE