Newly remixed clubsound album will be available on June 30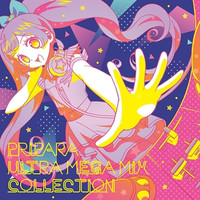 Avex today posted an eight-minute preview video for "PriPara Ultra Mega Mix Collection," the upcoming album including clubsound remix versions (EDM, trance, eurobeat) of the songs from the popular idol-themed anime series PriPara. the 13-song album is set to be released on June 30. Check out how the anime series' hit songs are re-created in the video below!
As one of the most successful recent idol-themed TV anime series, PriPara was aired for 140 episodes from July 2014 to March 2017. The second series based on Takara Tommy Arts and Syn Sophia's trading cad arcade game series of the same name, Idol Time PriPara, has been aired on TV Tokyo and its affiliates since April 2017. Some of the main characters from the first series, including the protagonist Laala Manaka, also appear in the story.
"PriPara Ultra Mega Mix Collection" preview
Song List:
1. "Make it!" -90'S Pop Techno Remix-
2. "Pretty Prism Paradise!!!" -Y&Co. d'n'b Remix-
3. "Kono Uta Tomareihi" -New Electro Remix-
4. "No D&D code" -Y&Co. Hard Dance Remix-
5. "Marble Make up a-ha-ha!" -Hyper Techno Remix-
6. "Taiyo no flare sherbet" -Super Euro Remix-
7. "CHANGE! MY WORLD" -Blacklolita Future Bass Remix-
8. "0-week-old" -Y&Co. R&B Remix-
9. "Papipupe☆POLICE!" -80'S Style Remix-
10. "Tondemo SUMMER ADVENTURE" -Extra Drop Mix-
11. "Devi & En ☆Reversible-Ring" -Happy Trance Remix-
12. "Jun. Amoré. Ai" -Y&Co. Eurobeat Remix-
13. "Love friend style" -DJ Shimamura's Hardcore Rave Remix-
CD jakcet illustration
---
Meanwhile, the first volume of "PriPara Live Collection" that includes the live stage performances
introduced in the first TV anime is set for release on the same day, June 30. The second volume
will follow on August 25.
Source: Avex's "PriPara" official website
(c) T-ARTS / syn Sophia / TV Tokyo/ IPP Production Committee