Junto ao anúncio foi revelado parte do elenco de dublagem e equipe de produção, a animação será baseada na light novel original de Ryo Mizuno (Record of Lodoss War)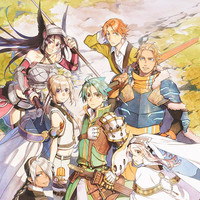 Um site oficial para a adaptação em anime de Record of Grancest War foi lançado hoje, revelando que a animação será produzida pelo estúdio A-1 Pictures, com direção de Mamoru Hatakeyama (Showa Genroku Rakugo Shinju, Sankarea) e roteiros de Ryo Mizuno, autor da light novel original e mais conhecido pelo sucesso dos anos 1990, Record of Lodoss War.
Hiroshi Yakou (diretor de animação da Prison School e Heavy Object) é responsável pelo design dos personagens. Yuugo Kanno (Psycho-Pass, Jojo: Diamond Is Unbreakable) está compondo a música, e Yoshikazu Iwanami (Fate/Zero, Kill la Kill) é o diretor de som.
Para o elenco de dublagem foi divulgado que Kentaro Kumagai (Tsubasa Kaneko em Tsukigakirei) vai interpretar Theo, e Akari Kito (Yonaga Hinagiri em Alice & Zoroku) vai dublar a personagem Siluca. O site também revelou a primeira ilustração promocional e anunciou que a série está programada para estrear em janeiro de 2018.
Ilustração Promocional
Vídeo promocional da light novel

As light novels originais da Record of Grancrest War são publicadas pela Fujimi Shobo (uma divisão de Kadokawa) sob o selo Fujimi Fantasia Bunko. A história da série segue Theo, um cavaleiro, e Siluca, uma maga, enquanto buscam o santo selo do imperador (o "Grancrest" do título) em um esforço para trazer de volta a paz em sua terra devastada pela guerra.
Fonte: ANN
---
Fábio[portuga] é redator de notícias para a Crunchyroll.pt e lembra até hoje de como ficava encantado com as reportagens sobre Record of Lodoss War que sempre saiam em suas revistas de animes favoritas e o quanto sofreu para finalmente poder assistir. Visite o seu perfil e siga-o no Twitter: @portugassis. Clique aqui para ler outros posts do autor.