Superhero co-production between Stan Lee and Studio Deen will air on NHK and stream on Crunchyroll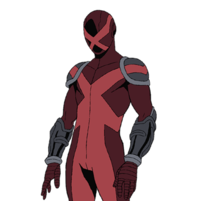 The main cast and the Japanese broadcast date have been announced for THE REFLECTION, an upcoming superhero-themed TV special that combines the talents of comic creator Stan Lee, anime director Hiroshi Nagahama, musician Trevor Horn, and animation producers Studio Deen. The main cast of THE REFLECTION includes:
Shinichiro Miki as X-on, an elusive hero with ability to copy other people's powers after touching them for 3 seconds. X-on's age, history, and identity are unknown.
Satoshi Mikami as Ian Izzet / I-Guy, a famous rock singer whose voice can be focused to create concussive blasts. I-Guy fights in a suit of powered armor that takes advantage of his superhuman voice.
Mariya Ise as Eleanor Evans, a young lady with the ability to teleport short distances. Eleanor has strong computer and information gathering skills, and she strongly identifies with heroes, especially X-on, for whom she gathers intel.
And Satomi Hanamura as Lisa Livingston, a young woman who dreams of the open sky. Although confined to a wheelchair, Lisa is an athlete with a bright and curious personality, and she competes in wheelchair sprint races. Under the influence of "The Reflection" she gains the power to transform her favorite wheelchair into a giant robot.
THE REFLECTION is directed by Hiroshi Nagahama and features animation by Studio Deen. The story is set in a world where a mysterious atmospheric phenomenon known as "The Reflection" killed many people all around the world while causing the survivors to spontaneously develop superhuman abilities. Some people become heroes, others become villains...
THE REFLECTION will broadcast on the NHK network on Saturdays during the 23:00 time slot (11:00 PM JST) beginning on July 22, 2017. The TV special will air a total of 12 times. THE REFLECTION will also be available via streaming on Crunchyroll.
Sources:
THE REFLECTION Official Twitter feed (@RFLC_anime)
Paul Chapman is the host of The Greatest Movie EVER! Podcast and GME! Anime Fun Time.