Japan's Milk Day festivities at Roppongi Ranch look like a ton of fun, especially with Nintendo's involvement.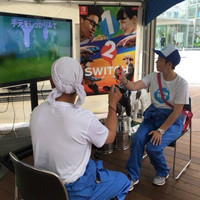 In Japan, June 1 is Milk Day, a commemoration of all things dairy and the men and women who make dairy products possible. Nintendo got in on the celebration this year in an entirely wonderful way using 1-2 Switch.
At the Roppongi Ranch event on May 27, the Central Dairy Council sponsored the Nintendo event in Minato. There, participants could play the milking mini-game in 1-2 Switch and partake in locally made ice cream and milk. The main event was actually dairy farmers facing off on the 1-2 Switch milking game and seeing it made me wish that the US had more diverse and fun events like this.
六本木牧場のイベントに来ています。任天堂スイッチでリアル酪農家が乳搾りバトルです。負けたら酪農家失格の烙印が押されます。 pic.twitter.com/dLYzLsjGIX
— ヨシダ ヤスヒロ (@pony1744) May 27, 2017
[via RocketNews24]
-------
Fueled by horror, rainbow-sugar-pixel-rushes, and video games, Brittany is a freelancer who thrives on surrealism and ultraviolence. Follow her on Twitter @MolotovCupcake and check out her portfolio for more.