First part of the three-compilation film will be released this year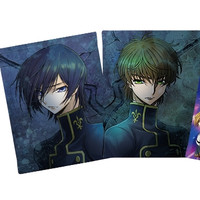 As part of the 10th anniversary for the Code Geass anime franchise, Bandai's official online store Premium Bandai today starts accepting pre-orders for two illustrated canvas prints of the protagonist Lelouch Lamperouge and his rival Suzaku Kururugi. The arts are newly drawn by the anime character designer Takahiro Kimura who has also served as one of the main animators.
The price for each 273mm×220mm-size prints named "Code Geass 10th Anniversary Memory Museum" is 6,025 yen (about 54.50 US dollars), and the "Three Set" including the two and the "10th Anniversary" print of the same size featuring the art of the 13 main characters is also offered at 12,050 yen (about 109 US dollars). The print with the 13 characters is only available in the set. Pre-orders will be accepted till July 14 and the shipping will start in August.
『コードギアス』10周年記念!木村貴宏氏描き下ろしの美麗イラストを使用した壁掛けアイテムが登場☆「ルルーシュ」「スザク」と10周年記念イラストの3点セット♪ #geassp https://t.co/k872FthKz7 pic.twitter.com/FpJtm2sxFw

— プレミアムバンダイ (@p_bandai) June 5, 2017
Source: Bandao Net Strategy Section press release
(C)SUNRISE/PROJECT GEASS Character Design(C)2006-2008 CLAMP・ST