The song's CD single will be included in the DVD/Blu-ray 9th volume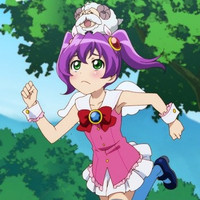 The official Japanese website for Yowamushi Pedal New Generation, the ongoing third TV anime series based on Wataru Watanabe's road bicycle racing-themed sport manga, confirmed today that "Hime no Kurukuru Kataomoi" (Hime's Spinning One-Sided Love), a new song by Kotori Himeno (CV: Yukari Tamura) will be featured in the next 23rd episode to be aired next Monday in Japan.
Kotori Himeno is the main character in "Love☆Hime," the anime series in the show that the protagonist Sakamichi Onoda loves. He always sings the anime's theme songs when he is riding his bike. "Hime no Kurukuru Kataomoi" is the theme song for the anime's second season "Love☆Hime Pettanko," and as with the first season's "Koi no Hime Hime Pettanko," the manga author Watanabe wrote the lyrics.
The CD single of "Hime no Kurukuru Kataomoi" will be included in the first press limited edition of "New Generation"'s 9th DVD/Blu-ray volume to be available on December 13.
In addition, Kotori Himeno will also appear in the 23rd episode's ending short anime (C-part) alongside her
sheep butler Meige (CV: Junich Suwabe) and a new character Kotaro (Yuki Kaji).
6/12(月)から各局放送『弱虫ペダル NEW GENERATION』第23話「坂道、追撃」で、1期・2期に続いて「ラブ★ヒメ」!劇中歌「ヒメのくるくる片想い」歌:姫野湖鳥(CV.田村ゆかり)が初登場します!
↓https://t.co/Zq18XQg0Au#yp_anime pic.twitter.com/MbyCXOhkAD

— 弱虫ペダル_アニメ (@yowapeda_anime) June 8, 2017
---
"Yowamushi Pedal New Generation" key visual
Source: "Yowamushi Pedal" anime official website, Twitter
© Wataru Watanabe (Akitashoten) 2008/Yowamushi Pedal 03 Film Partners 2017