World premiere is scheduled to be held at Anime Expo and Japan Expo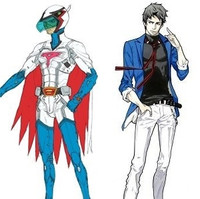 The official website for Tatsunoko Production's 55th anniversary full 3DCG TV anime project Infini-T Force has posted character visuals of its four main heroes: Ken Washio/G-1 from Science Ninja Team Gatchaman, George Minami/Tekkaman from Space Knight Tekkaman, Takeshi Yoroi/Polymar from Hurricane Polymar, and Tetsuya Azuma/Casshern from Neo-Human Casshern. The TV anime series is set to premiere on Nihon TV (Tatsunoko became a subsidiary company of the station in 2014) in October 2017.
The site has also announced that the world premiere screening of the anime is scheduled to be held at Anime Expo (Los Angeles, USA/July 1-4) and Japan Expo (Paris, France/July 6-9). Director Kiyotaka Suzuki (Psycho-Pass 2 series director) and Tomokazu Seki who is cast as Ken Washio are confirmed to join the former.
Ken Washio/G-1 from Science Ninja Team Gatchaman
CV: Tomokazu Seki (Domon Kasshu in Mobile Fighter G Gundam, Sakuma in Joker Game)
遂に4大ヒーローのキャラクターデザインが解禁!

ガッチャマン(G-1号)/鷲尾健(CV: 関智一)
キャラクター紹介:科学忍者隊の一員でコードネームはG-1号、または大鷲の健。ガッチャマンはリーダーの称号。バードスーツに身を包み、科学忍法を駆使して悪と戦う。#アニメITF pic.twitter.com/WBBFr3bGx6

— 「Infini-T Force」公式 (@Infini_TForce) June 9, 2017
George Minami/Tekkaman from Space Knight Tekkaman
CV: Takahiro Sakurai (Osomatsu Matsuno in Osomatsu-san)
【キャラクターデザイン解禁②】
テッカマン/南城二(CV:櫻井孝宏)
キャラクター紹介:サポートロボット・ペガスに搭載されたシステムによって、肉体を強化され装甲の超人テッカマンに変身する。https://t.co/mBtYfqn4no#アニメITF pic.twitter.com/4OYkfcPkKs

— 「Infini-T Force」公式 (@Infini_TForce) June 9, 2017
Takeshi Yoroi/Polymar from Hurricane Polymar
CV: Kenichi Suzumura (Momotaro Mikoshiba in Free!)
【キャラクターデザイン解禁③】
ポリマー/鎧武士(CV:鈴村健一)
キャラクター紹介:変身用ヘルメット・ポリメットで、特殊粒子スーツに身を包みポリマーに「転身」。自らが編み出した拳法・破裏拳流を駆使して闘う。https://t.co/mBtYfqn4no#アニメITF pic.twitter.com/Rej1u3Q3fp

— 「Infini-T Force」公式 (@Infini_TForce) June 9, 2017
Tetsuya Azuma/Casshern from Neo-Human Casshern
CV: Souma Saito (Tadashi Yamaguchi in Haikyu!!)
【キャラクターデザイン解禁④】
キャシャーン/東鉄也(CV:斉藤壮馬)
キャラクター紹介:人類に反乱を起こしたロボットたちと戦うために、自ら進んで人間の肉体を捨て、最新鋭のアンドロイド「新造人間」となった少年。https://t.co/mBtYfqn4no#アニメITF pic.twitter.com/v4wZXYJ1Yf

— 「Infini-T Force」公式 (@Infini_TForce) June 9, 2017
Teaser
TV anime "Infini-T Force" main staff:
Director: Kiyotaka Suzuki (Psycho-Pass 2 series director)
Series Composition Writer: Toshiya Ohno (Suite PreCure, Gatchaman Crowds)
Original Character Design: Oh!Great (Tenjho Tenge, Air Gear manga artist)
Original Hero Design: Keiichi Sato (Tiger & Bunny)
Suit/Mechanic Design: Koji Nakakita (Gatchaman Crowds)
Production: Tatsunoko Production
3DCG Production: Digital Frontier (GANTZ:O, Death Note: Light up the NEW world)
---
Advance PV released in April 2016
Key visual
Source: TV anime "Infini-T Force" official website
© Tatsunoko Production
© infini-T Force Production Committee