Polygon Pictures' all new film hits Japanese theaters November 17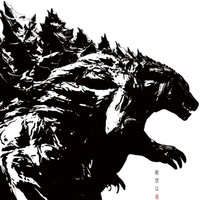 The official website for Godzilla: Kaiju Wakusei/Monster Planet, Polygon Pictures' upcoming anime feature film inspired by Toho's long-running Godzilla franchise, is today updated with a third teaser visual introducing a silhouette of its Godzilla whose size is confirmed to be the biggest in the history of the 63-year-old franchise. The biggest Godzilla appeared in the films was the most recent one in Shin Godzilla (2016) that was 118.5m-tall (390ft).
The film is set 20,000 years future, when the planet earth has been dominated by Godzilla and unknown monsters. Co-director Koubun Shizuno (Knights of Sidonia) says, "Because we had a permission from Toho that our design didn't need to be bound by the previous Godzillas from the beginning, I think we have created a cool Godzilla based on free ideas, which only anime can express."
The catchphrase for the visual is "Despair Evolves."
『シン・ゴジラ』から"アニメゴジラ"へ。アニメーション映画『GODZILLA 怪獣惑星』のゴジラビジュアル(一部)がついに解禁!二万年の進化を果たした歴代最大のゴジラ、ここに誕生!!。「絶望は進化する」というフレーズと共に、そこに存在するゴジラ、圧巻です。#アニゴジ pic.twitter.com/x32Zwx53Bq

— 映画『GODZILLA 怪獣惑星 』 (@GODZILLA_ANIME) June 12, 2017
It is also confirmed that Godzilla: Kaiju Wakusei/Monster Planet" will be released in Japanese theaters on
November 17, 2017. Netflix has already announced the acquisition of world-wide distribution rights to the film.
2nd teaser visual
1st teasr visual
---
Story Introduction:
The last summer of the 20th century. On that day, the human race realized that they were not the only
ruler of the planet earth.
The emergence of gigantic monsters "kaiju" and the ultimate existence that even can destroy the kaijus,
Godzilla. After half-century of the war against the kaijus, the human race repeatedly defeated and decided
to escape from the earth. Then finally in the year 2048, only people who were chosen by the artificial
intelligence under the control of the central government went on board the interstellar immigrant ship
Aratrum and left for the "Cetus: Planet Tau e" which was 11.9 light years away from the earth. But
the environmental condition difference between the earth and Tau e, which took 20 years to reach, was
far exceeded the predicted value, and there was no way to survive for the human race.
A young man named Haruo is on board of the immigrant ship. His parents were killed by Godzilla right
front of him when he was 4, since then, he has been thinking about only going back to the earth and
killing Godzilla for 20 years. Since there is no hope for immigration to other planets, the "Return to the
Earth" group including Haruo becomes the mainstream in the ship as its living condition is getting worse,
then they decide to try the long distance hyperspace navigation.
However, 20,000 years have already passed when they finally arrive the earth, and it becomes a totally
unknown world dominated by an ecosystem topped by Godzilla. Can the human race take the earth back,
and the fate of Haruo will be...?
---
Source: "Godzilla: Monster Planet" official webite, Twitter
©2017 TOHO CO.,LTD.